Sometimes you just want a sofa you can really sink into when you want to do some lounging, with extra deep seats and comfy, tufted upholstery that hugs you as you drift away to relaxation land.
Today we're sharing some of the best deep seat sofas from loveseats to sectional sofas for your family or living room.
The Best Overall Sofas of 2021
Our team evaluated price, quality, comfort and additional features to bring you the best new sofas available now.
5 Best Deep Seat Sofas Consumers Loved This Year
1. 3-Seat Sofa with Chaise by Allform
Price: $1895
Allform takes the cake for both deep seating and back support couches. Its low profile and deep seat cushions give the Allform premium comfort for those looking for more space in a deep couch. In addition to this, both seat and back cushions are made with high-grade foam and fiber designed to provide loft and comfort. 
These plush cushions make this sofa perfect for reclining, laying or sitting upright. People choose Allform not only because its cozy and high-quality, but its modern design and clean lines make it the perfect centerpiece for a modern living room.
What real customers loved about the Allform three-seater
Customers enjoy the available color swatches and the high-quality materials, such as performance fabric, hardwood legs and frame that make these modular sofas as comfortable, as they are stylish. You can even choose the colors of the wood legs. 
Additionally, they love that Allform offers oversized seat options to add extra seat depth and additional high-density foam to create the perfect movie night sofa. Removable cushions make it easy to clean all of the nooks and crannies whether you decide to go with their performance fabric or leather sofa option. 
Beneath the fabric or leather upholstery is a kiln-dried laminated frame, which makes them harder than standard wood options from other brands. Allform is so confident in this frame that they offer a limited lifetime warranty.
Drawbacks or Flaws
Customers sometimes complain about the pricing for Allform, but believe us, it's worth it. In addition, some would like to see Allform in-person before buying, but it's only available online.
Best Deep Seat Sofa: Allform
2. Sunday 82" Sofa by Blu Dot
Price: $2899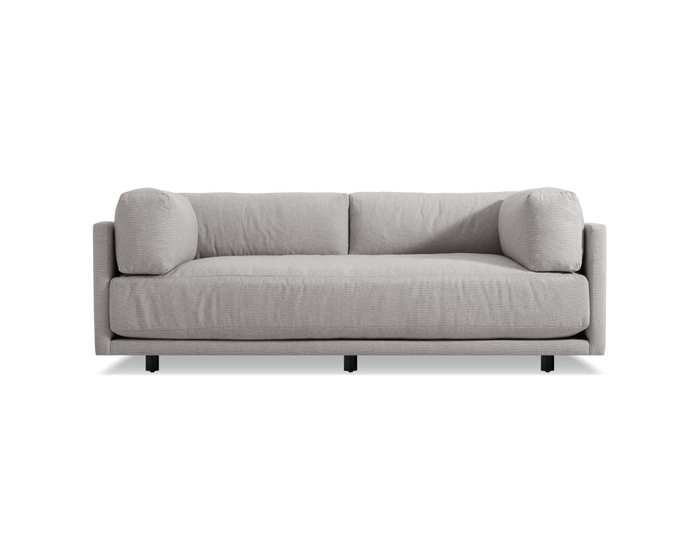 What real customers loved about the Sunday sofa
Customers love the modern design, minimal armrests, deluxe side pillows, and solid wood frame that makes this both a sturdy and comfortable sofa. This high-quality fabric sofa also offers webbing and high-resiliency foam that can support a higher weight capacity while being compact enough for small spaces.
Drawbacks or Flaws
Some customers have said that the assembly was difficult and that the pieces of the sofa came in separate deliveries. 
3. Rhett Sofa by Anthropologie
Price: $2198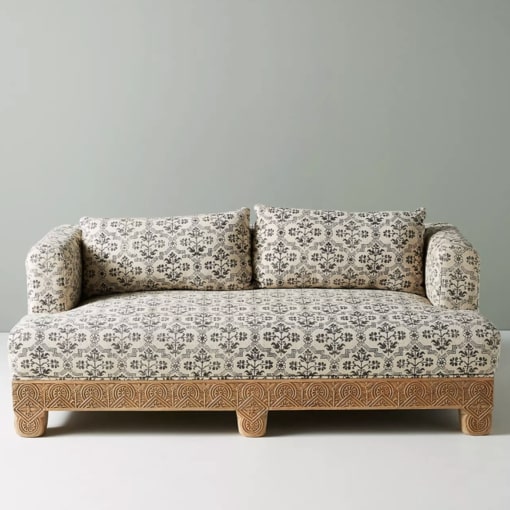 What real customers loved about the Rhett Sofa
Shoppers love the intricately hand-carved wooden frame and textured rug-print upholstery of this deep sofa. In addition, customers love the high-density foam seat and backrest that makes this three-seater sofa the perfect addition to complete your home decor.
Drawbacks or Flaws
Some customers have stated that the stitching begins to unravel and that the weave is not tight enough to maintain its durability over time. 
4. The Lewis Sofa by Joybird
Price: $1495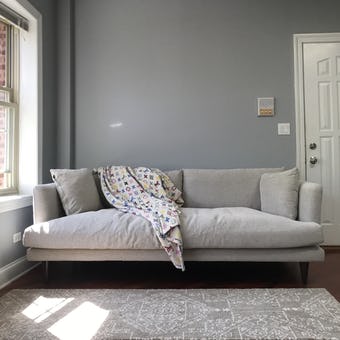 What real customers loved about the Lewis Sofa
Joybird customers agree: this is one of the best sofas available for tall people that need a higher seat height to be comfortable. It is both a wide and stylish sofa that provides a classic design that fits in well with other living room furniture and shoppers love the extra throw pillows that come with the couch.
Drawbacks or Flaws
A few customers have noted that the sofa fabric is not as soft as they would prefer and that shipping takes a while.
5. The Harmony Sofa by West Elm
Price: $1279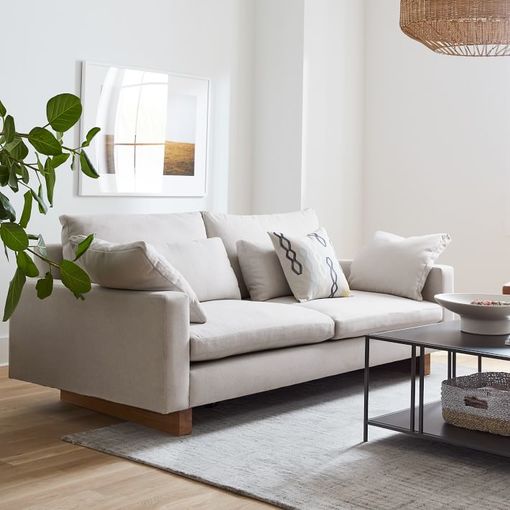 What real customers loved about the Harmony
Customers love the Harmony for its classic style and superior support. It's hardwood frame, high-gauge sinuous springs, and fiber-wrapped, high resiliency foam provide unparalleled support for all the lounging you plan to do in your living space. They also love that it comes with throw pillows and that the cushions are reversible for easy fluffing and cleaning.
Drawbacks or Flaws
A few customers have noted that the sofa fabric is not as soft as they would prefer and that they would have preferred if the sofa were delivered fully assembled- however, this sofa requires far less assembly than others we have reviewed. 
Extra Tips for Buying a Deep Seat Sofa
Complete your look with a few accent items
To complete your look and tie everything together, opt for some additional home decor such as some plush accent pillows, coffee table, or a nice area rug. You definitely will want to think about color scheme before you toss pillows all over the place, though.
Look for extra comfort options
Since you've gone this far to try to find the perfect deep seat sofa, keep in mind that most companies offer customization options to get the most out of your purchase. These can include multiple fabric options for how your sofa is upholstered and higher quality cushioning add ons.
Other great deep seat sofa brands
Not feeling any of the sofas we mentioned here today? Not to worry! There are great deep seat options with most reputable sofa brands. Check out our best online sofa brands and best sofas posts to see what else we're recommending this year. You might find you like button tufting or a chesterfield look instead – there are many of those available. You just have to do your research!
Enable registration in settings - general