Who doesn't love a quality mid-century modern sofa to liven up their living space? With its striking geometric shapes, clean lines, button tufting, and tapered legs, it's got a classic appeal that will never die. 
That's good news because this modern design has made quite a comeback in recent years, popping up in nearly all of the most popular furniture brands. Today you can find this sofa design upholstered in a variety of fabrics such as velvet, microfiber, and leather. 
To help you make your selection we've compiled a list of the seven best mid-century style sofas available today.
The 7 Best Mid-Century Modern Sofas
1. Sectional Sofas by AllForm
Price Range: $2,245 to $4,345
The Allform mid-century modern sofa comes in one of seven top-quality, durable fabric options or two shades of aniline-dyed, Italian top-grain leather.
These modular sofas can be customized to include as many seats as you need, which can be arranged in any formation you desire. This makes the Allform sofa a fantastic choice for both small and large spaces.
Allform also offers a variety of customization options and a comprehensive warranty that earns it the top pick on our mid-century sofa list. If you're looking for quality, affordability and style packaged in one, this should be the top of your list.
What real customers love about Allform Sofas
Customers love the quality craftsmanship of a solid wood frame construction, as well as the fast, free delivery. 
 Drawbacks or Flaws
Some customers have said that Allform loveseats and sofas are a bit on the pricey side, but we think its well worth it for the value the brand delivers.
2. The Monroe Sofa by West Elm
Price Range: $1,399 & up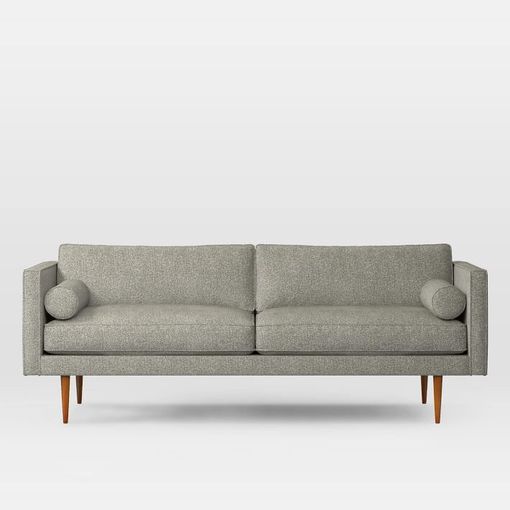 The Monroe Mid-Century fabric sofa is hand upholstered and assembled in the USA and features vintage pecan-stained wood legs, bolster pillows, and a comfortable, inviting solid oak hardwood frame.
To enhance its durability the frame is engineered with reinforced joinery and kiln-dried wood to prevent premature aging and warping. The fiber-wrapped, high-resiliency foam cushions sit atop a strong support system made with high-gauge sinuous springs.
What real customers love about West Elm sofas
Shoppers love that West Elm sofas work really well in small spaces, and many have said that other sofas that were similar style did not fit as well in the space. 
Drawbacks or Flaws
While many shoppers praised the design and construction, some have complained that making custom orders takes far too long to ship and have a very short return window (7 days). 
3. The Aiden Tufted Sofa by Crate & Barrel
Price Range: $2,199 to $2,858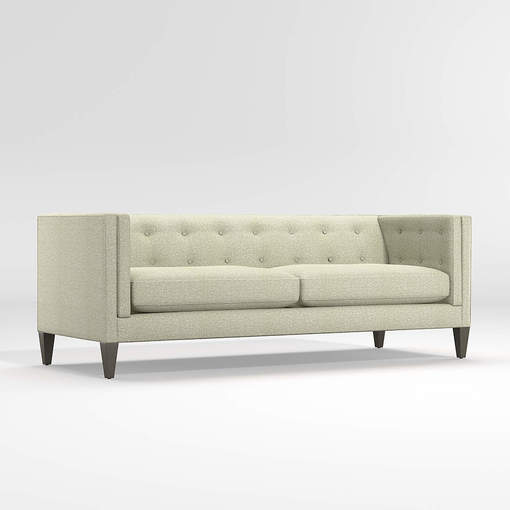 The Aiden is made in the USA and features a trim tuxedo frame with a buttoned-up sense of style that doesn't skimp on comfort.
Upholstered in a herringbone microfiber fabric, this boutique-style sofa sports button-tufted backing, cognac brown wooden legs, and cushions firm enough to support you while relaxing.
Furthermore, this sofa is built with sinuous springs on a solid hardwood frame that is kiln-dried to prevent premature aging and warping.
What real customers love about Crate & Barrel sofas
Shoppers rave about the comfortability and stylish designs of Crate & Barrel sofas. They also love the quality of Crate & Barrel customer service and accurate shipping expectations.
Drawbacks or Flaws
Customers have complained that up initially using the sofa, that the cushions can be more firm then they would like but that they do loosen up over time- this is very typical with sofas.
4. The Mina Two-Cushion Sofa by Anthropologie
Price Range: 1,998 to $2,598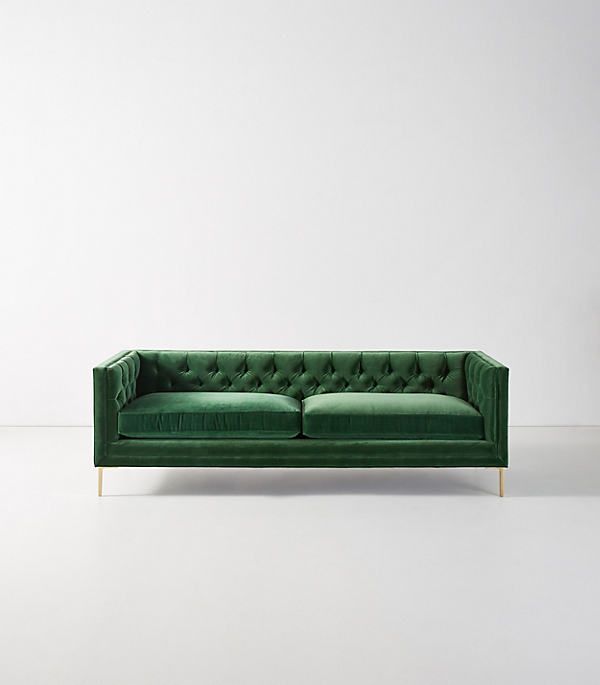 The Mina sofa is unique in that it comes with only two loose seat cushions and a tufted backrest instead of back cushions. Additionally, it features minimal legs and square armrests, all very typical of the mid-century simple, but elegant look.
For those that like to flip their cushions from time to time, you'll be happy to know that cushions are reversible. Furthermore, the removable legs make this couch easy to move through tight doorways.
What real customers love about Anthropologie sofas
Customers love that Anthropologie sofas are sleek and elegant, yet comfortable enough for lounging on movie nights.  
Drawbacks or Flaws
Customers have complained that shipping is costly on top of an already pricey sofa.
5. The Luca Sofa by Rove Concepts
Price Range: $1,479 to $1,959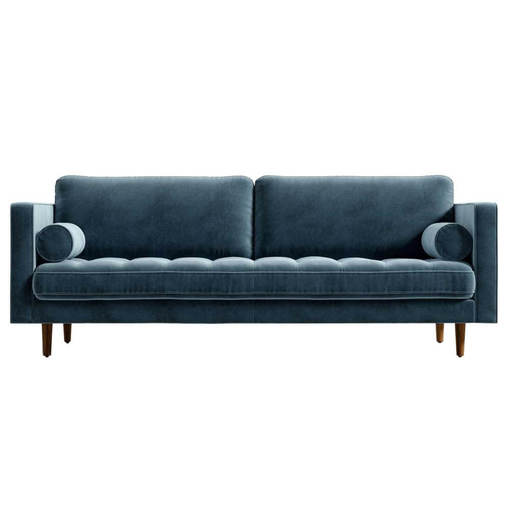 With its sleek tapered legs and contrasting lines, the three-seater Luca sofa combines the tradition of mid-century sofas with modern trends to provide a truly unique look enhanced by the delicate piping and tufting around the seats.
Furthermore, the eco-friendly foam and premium goose feathers in the cushioning provide the perfect mix of support and plush comfort. This sofa also comes as a sectional with a chaise or as an armchair.
What real customers love about Rove Concepts sofas
Customers have raved about Rove Concept sofas saying that they transform their living space and say that the sofas arrive in pristine shape, are top quality, and extremely comfortable. 
Drawbacks or Flaws
Customers complain that shipping times are long but worth it considering the custom-crafted, high-quality nature of the material.
6. Florence Chaise Sectional by Kardiel
Price Range: $2,179 to $2,979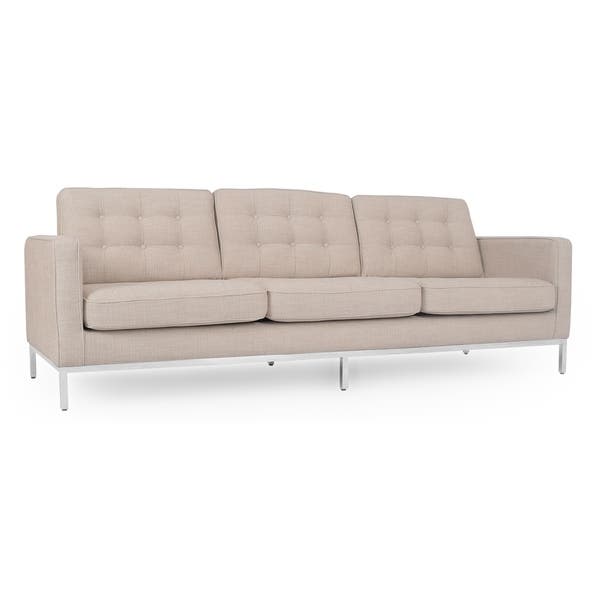 The Florence Chaise was designed and built to be the perfect replica of its 1956 counterpart.
This includes detail in the specific dimensions, lineal, cubic cushions featuring a compressed, button-tufted design, and it's overall layout. Kardiel also offers this design in the form of a club chair, loveseat, three-seater sofa, and bench and ottoman configurations.
What real customers love about Kardiel sofas
Customers say that not only are these sofas surprisingly accurate recreations of the original mid-century sofa but are far more comfortable than one would expect an antique sofa to be.
Drawbacks or Flaws
Customers have complained about the pricing and time to ship for custom orders but say that the quality of the sofa is worth it. 
Erik Sofa by Inmod
Price Range: $1,257 & up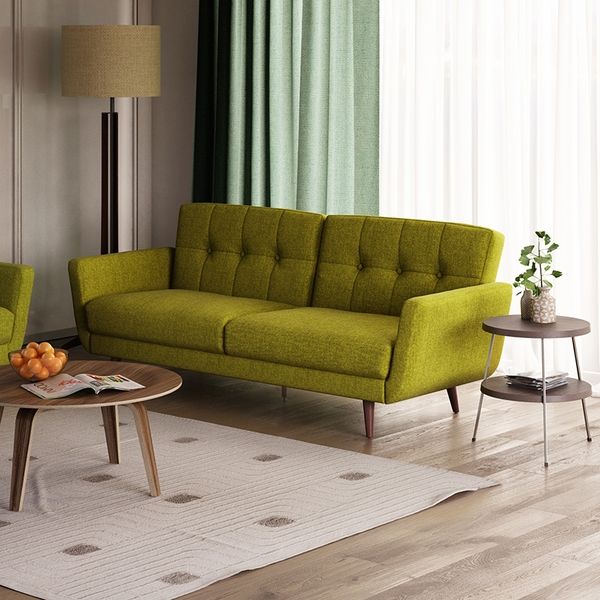 The Erik Sofa is a great pick for anyone looking to elevate their decor with a more modern, high-end look. This sofa features acrylic legs for durability and free shipping.
Also, as a part of the Sussex Home Solution's Elegance collection, this sofa comes with other matching pieces to complete your seating area.
What real customers love about Inmod sofas
Customers say that ordering Inmod sofas is easy, that the products arrive exactly as pictured with beautiful contemporary designs.
Drawbacks or Flaws
Some customers have said that self-assembly pieces come with very minimal directions which can make assembly a bit confusing.
Tips for Your Mid-Century Modern Style Couch
Start Considering Leather Sofa Upholstery
There's something about a high-quality leather upholstered sofa that just says, "classic and sleek". In addition to its smooth look and feel, top quality leather upholstery is extremely durable and actually gets better as it ages, just like a fine wine! 
Furthermore, leather is easy to clean, stain-resistant, and can be made to last even longer by conditioning it from time to time. Faux leather is also an option but be wary- it won't hold up as well as premium leather.
Enable registration in settings - general