With a new year comes new beginnings all kinds, including your interior design. If you're hoping to give your living room a new twist, Home of Cozy is ready to assist you and make furniture shopping fun and easy. 
This year, we've combed through hundreds of furniture retailers to hand select the top brands in quality with reasonable pricing. After narrowing down our selection to the ten best, we're presenting them to you here, by category to help you make the best purchase for your home.
The Best Overall Sofas of 2021
Our team evaluated price, quality, comfort and additional features to bring you the best new sofas available now.
Here's a rundown of our top picks by category. Be sure to keep reading to get more detailed information about each retailer.
Best Online Furniture Store: World Market
Best New Furniture Brand: Allform
Best Traditional Brand: Ashley Furniture
Best for Affordability: IKEA
Best for The Dorm: Target
Best Modern-ish Brand: Crate and Barrel
Best For Small Purchases: Urban Outfitters
Best Furniture Delivery: Amazon
Best For Outdoor Furniture: Home Depot
Best Customer Service: Wayfair
Best Online Furniture Store: World Market
World Market is the best online shopping source for home furnishings, decor, imported rugs, window treatments, specialized food and wine gifting, and more at affordable prices.
Additionally, World Market is well known for providing some of the highest quality, real wood furnishings around.
Best For: Those looking to buy furniture online and those that may need complimentary items such as dining sets, housewarming gifts, or decor.
Best New Furniture Brand: Allform
Allform offers high-quality, customizable sofas, sectionals, chairs and more that can fit any space in your home. Products are made sustainably, in the USA, with a forever frame warranty and 100 day trial. 
Unlike other furniture brands, Allform offers a ton of customization options from the color of your sofa's wood legs, to the fabric or leather color, the filing of your seat cushions, as well as the depth and optional add-ons.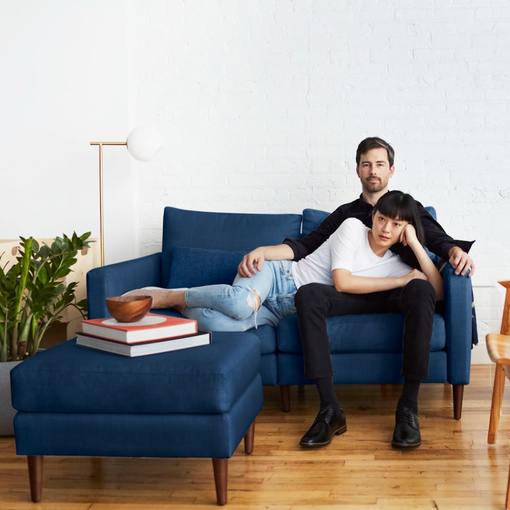 Best For: Shoppers looking for high quality leather upholstery and sofas that can be tailored to your room size from a two-seater loveseat to an eight-seater modular sofa.
Best Traditional Brand: Ashley Furniture
Ashley Furniture offers a large selection of furniture and home decor with a variety of styles at great prices plus free shipping on many of their items.
Shoppers love that you can visit a showroom to see furniture in person before you buy as well as use their interactive tools to design your custom-built room.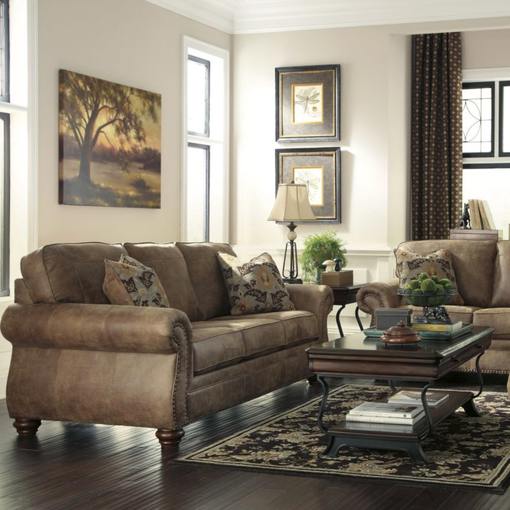 Best For: Shoppers looking for traditional brick and mortar stores and showrooms.
Best for Affordability: IKEA
IKEA is a one stop shop for modern furniture, made for living, for your entire home including living room seating, mattresses, dressers, and more. 
IKEA is a great choice for functional furniture that can suit your existing decor without throwing off the vibe.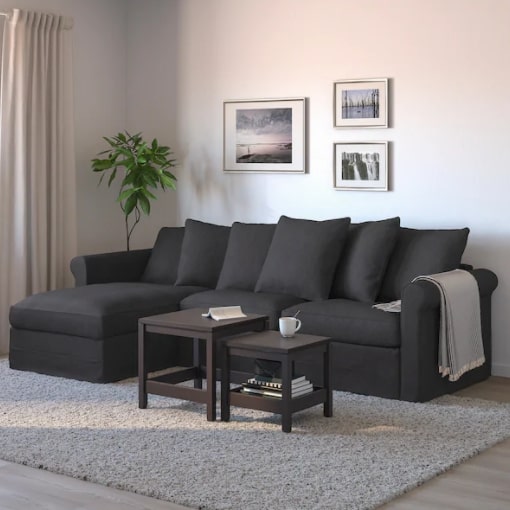 Best For: Shoppers looking for minimalist designs for large pieces of furniture such as dining tables, bed frames and headboards, storage, and more.
Best for The Dorm: Target
Give your college student an on-trend refreshing dorm room experience with Target's affordable furniture — perfect for small spaces and apartments.
For those looking for a unique variety, Target has made an aggressive effort to add more proprietary brands and styles that you won't find anywhere else.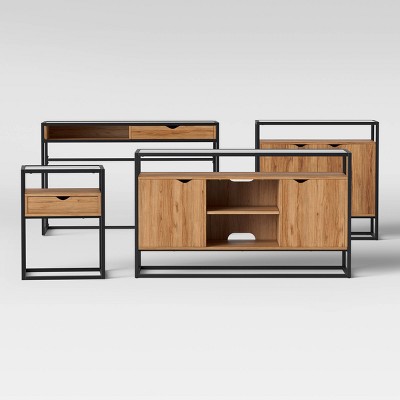 Best For: Shoppers looking to furnish small spaces with furniture that features a trendy, modern design. 
Best Modern-ish Brand: Crate and Barrel
Design your entire home with everything you need including high-end furniture, home decor, kitchenware, dining, and more. 
For extra flexibility, Crate and Barrel offers online shopping as well as numerous brick-and-mortar locations for those who prefer to get out and shop in person.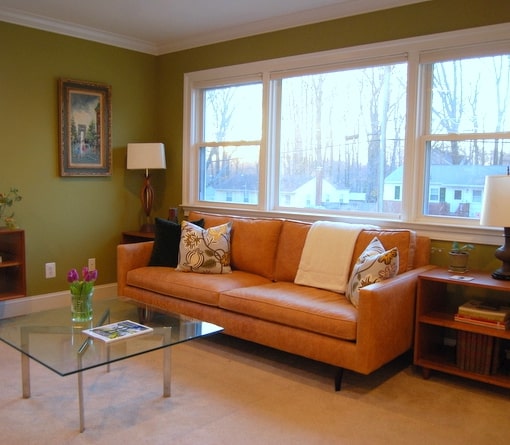 Best For: Shoppers who need furnishings for multiple rooms such as a desk for the home office as well as coffee tables for the living room.
Best for Small Purchases: Urban Outfitters
Looking to add a vintage flair to your room? Whether it's your living room, a dorm room, home office, or studio Urban Outfitters has the perfect retro-inspired item for every need.
Urban Outfitters is a great source for youthful looking furniture with a stylish flair that won't break the bank.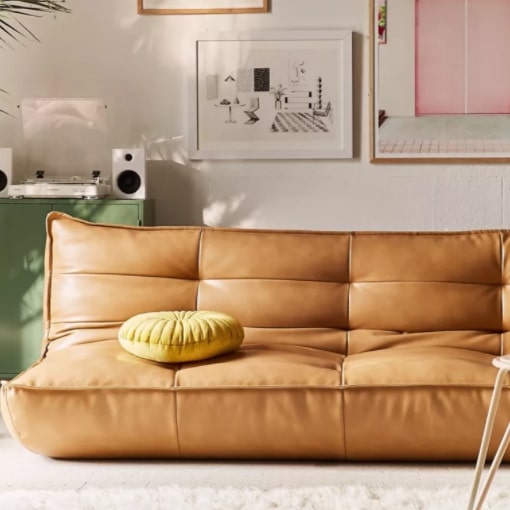 Best For: Shoppers who are looking to add a bit of flair to a room with special accent pieces such as side tables, bar stools, etc. 
Best Furniture Delivery: Amazon
With your Amazon Prime subscription, you get access to Amazon's great prices and an endless selection of home furniture and decor shipped fast and free to your door.
For those that don't like to have to buy from a lot of different places, you can find many of the same brands from traditional stores, through Amazon.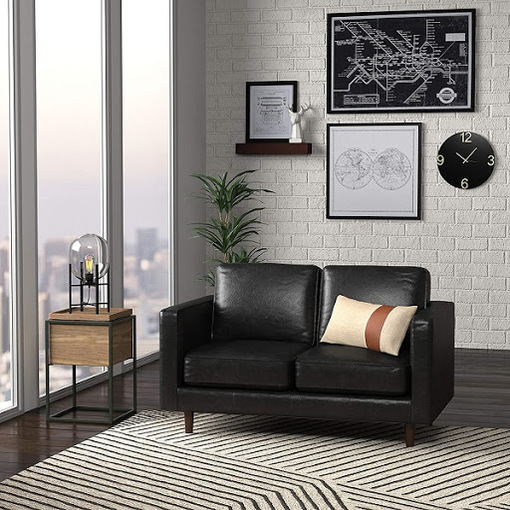 Best For: Those who prefer a one-stop shop where they can purchase anything they need, including quality furniture, and want an easy return policy.
Best For Outdoor Furniture: Home Depot
Redecorating your patio? Home Depot can help with a wide variety of outdoor furnishings at affordable prices, plus free delivery and flexible pickup and shipping options.
Specifically, The Home Decorators Collection has a wide array of options for those that may be skeptical about the variety provided at Home Depot.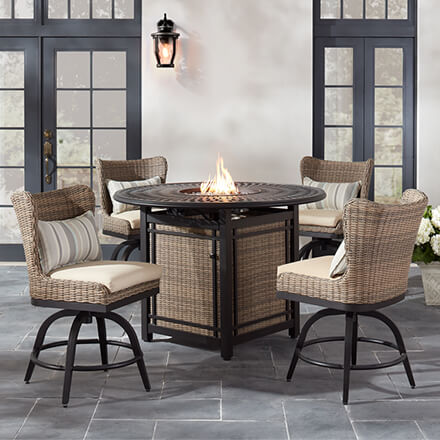 Best For: Those looking to blend a remodeling project with purchasing new pieces of furniture as Home Depot offers both supplies and furniture.
Best Customer Service: Wayfair
Wayfair has the largest selection of home furnishings across all styles and budgets, free shipping, and A+ customer service to ensure you're happy with your purchase.
With Wayfair you can view customer reviews and pictures before purchasing to help you feel more confident in your selection.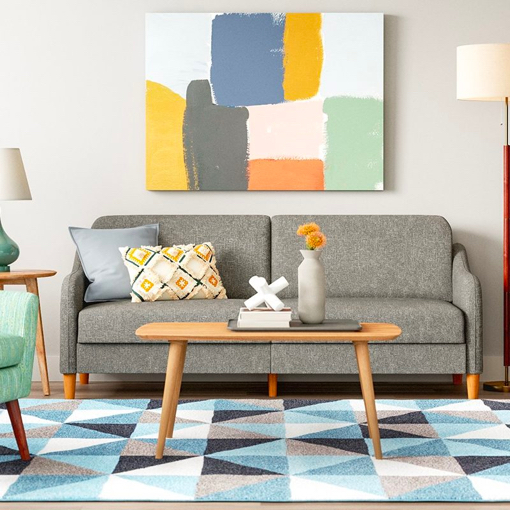 Best For: Those with varied tastes who want a wide selection of furniture and home goods.
Other Furniture Retailers You Should Consider
West Elm – West Elm is your home for modern furniture and decor featuring inspiring designs and vibrant colors that will give your home the stylish flair you've been looking for.
AllModern – AllModern creates furniture design to fit your modern lifestyle whether it be sofas, lighting, home decor and accents, plus free shipping on most items.
Anthropologie – Whether you're furnishing a new home, or one room, Anthropologie provides a curated collection of high-end furniture with a variety of colors, fabrics and wood grains.
Pottery Barn – Pottery Barn provides a beautiful collection of expertly crafted indoor and outdoor furniture, accessories, and more to make your home feel warm and inviting.
One Kings Lane – One Kings Lane offers an array of luxury furniture and home decor with concierge design services and white glove delivery service to simplify the shopping experience.
Overstock – With over 20 years of experience, Overstock has quality home products and more available at the touch of a finger with free shopping and easy returns.
Apt2B – Apt2B offers affordable, modern furniture to create a more stylish living room, dining room, bedroom, or office. Create a home you love for less money with Apt2B.
Birch Lane – Birch Lane features classic pieces you'll be sure to love forever. From furniture to lighting, to home decor, plus free shipping and easy returns for a shopping experience you'll love.
Rivet – Rivet, Amazon's exclusive furniture brand, offers mid-century modern living room, bedroom, dining, and office furniture suitable for small spaces and large alike.
Enable registration in settings - general